Beyond the Fundamentals: Expanding Discoverability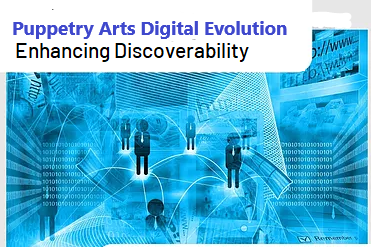 Beyond the Fundamentals: Expanding Discoverability
by SpringWorks / Hermione Presents
862 people viewed this event.
PADE (Puppetry Arts Digital Evolution) is a project that aims to increase access to digital tools, resources and skills for puppeteers, multidisciplinary artists and arts organizations. Through this national initiative, we will share, learn and plan how best to implement digital knowledge and tools into individual and joint digital discoverability, marketing, and strategic future plans.
The Fundamentals Series – October 18 to December 4, 2021 — Click to view Recordings and presentations
Beyond the Fundamentals (From Search to Discoverability – 5 workshops) – January 12 to February 2, 2022
Understanding Digital Business Opportunities and Revenue Models (3 workshops) – February 16 to March 9, 2022
Four Beyond Fundamentals: From Search to Discoverability workshops
All workshops start at 10 am Pacific / 1 pm Eastern time and are conducted via Zoom Meetings.
Workshops will use a dynamic mix of short presentations, hands on demonstration, participant-driven conversation and Q and As to ensure participants learn at their own speed. Pre-workshop assignments will be shared one week prior to each workshop and require between 5 and 15 minutes of work.
Click dates to register for each specific session.
Workshop 1: Traditional and Advanced Search engine optimization (SEO) assessment – 75 minutes
When: January 12th, 1pm Eastern
Pre-workshop homework: generate an SEO report using a specific web tool, share with the workshop leader in advance; get benchmarks
This workshop connects the dots between 1) having a web site, 2) traditional search engine optimization (SEO), 3) advanced SEO through structured data, and 4) taking discoverability to another level through linked open data directories.
Workshop 2: Machine-Readable Content – 90 minutes
When: January 15th, 1pm Eastern
Demonstrate what discoverability means tangibly – do google searches for events and see what happens
We will review WordPress and plug ins available, Yoast and SchemaPro in particular.
We will review other ways to generate machine-readable content (for those not using WordPress) to use in sites using Wix, Squarespace and other DIY tools.
How to test schema mark up to ensure its accuracy
Workshop 2: Machine- Readable Content – 90 minutes (repeated)
When: January 19th, 1pm Eastern
Workshop 3: Wikidata – Linked, Open Data – 60 minutes
When: January 26th, 1pm Eastern
Learn why you need a Wikidata listing and how Wikidata and Wikimedia Commons works
How to create a Wikidata listing for your organization, people, recurring events – we will set up a listing together for one of the organizations that will have volunteered in advance.
Relationship to search engines as well as to new services by Artsdata.ca
Session 4: Discoverability Review / Community of Practice – 90 minutes
When: January 29th, 1pm Eastern
A Recap of key teachings and learnings
Small group conversation about their progress, challenges
Open conversation in the group about challenges and obstacles to making the changes needed to dial up their discoverability
Review, critique any materials participants wish to share that they have generated
Session 5: Discoverability Review / Community of Practice – 90 minutes
When: February 2nd, 1pm Eastern