Online Directories for Performing Arts
Google and other search engines are building proprietary knowledge graphs from the data they scrape from websites and open databases on the internet. Their knowledge graphs lie at the heart of the search results they show users. In addition to crawling websites, search engines, like Google, use an array of open data sources they trust to aggregate more powerful information to respond to user searches with the best answer.
There are many online directories that seek to consolidate important information about the arts and culture sector in the digital world. The most important ones in the performing arts at the time of this writing are:
Artsdata.ca
Wikidata
Wikimedia Commons
Wikipedia
Virtual International Authority File (VIAF)
International Standard Name Identifier (ISNI)
Google MyBusiness
By having as complete a record as possible about performers, companies, presenters and venues, and recurring performing arts events, like festivals, the sector and its activities will become more discoverable: Search engines like Google draw on these open sources to display answers to web user searches. Google also includes information from these reputable sources and its Google MyBusiness tool in its knowledge panels.
One-off events are not well suited to be listed in Wikidata; rather it is an excellent directory for enduring facts, e.g. venues, organizations, recurring festivals and events.
A note on Wikipedia: Wikipedia operates as a crowdsourced encyclopedia. It's publishing policies make it more difficult to update listings about one's own organization or about oneself. However, Wikipedia uses information from Wikidata and Wikimedia Commons to help populate its listings.
View or download the complete PDF file here.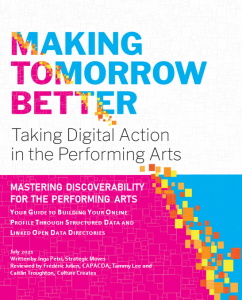 When original music is used in a performance, creating a record of that piece in the related music directories is useful to the composer and performers as well as the performance piece.
Artsdata.ca
This Canadian data initiative, led by Montreal's Culture Creates, aims to "empower the Canadian arts sector to actively promote a fairer and more equitable digital ecosystem. This initiative is building a linked open data knowledge graph of the arts that is open, accessible to all, and community-sourced." It seeks to develop a valuable resource by and for the arts sector using the schema.org standards.
Artsdata.ca is actively growing its user base. The pre-requisite is that your website has structured its data appropriately, using schema.org mark up standards. Then artsdata.ca simply need to be informed to include your website in its ongoing web crawling and scraping cycle.
Its focus is on performing arts events at this stage of development. This graphic shows the main classes used in Artsdata.ca as of June 2021.
According to artsdata.ca: "The classes and properties used in Artsdata represent a "thin" layer of data roughly specified by Google Event Structured Data. The main difference is that Artsdata enforces links between entities within Artsdata and interlinks URIs outside of Artsdata including links to Wikidata and Linked Open Data sources. Artsdata also generates unique global identifiers (IRIs also called URIs) for classes such as Event, Person, Place, and Organization." The full data model is available here: https://culturecreates.github.io/artsdata-data-model/ .
Any arts organization can use the Contact Us link on Artsdata.ca or you can send  an email directly to [email protected] with subject line: Artsdata.ca participation.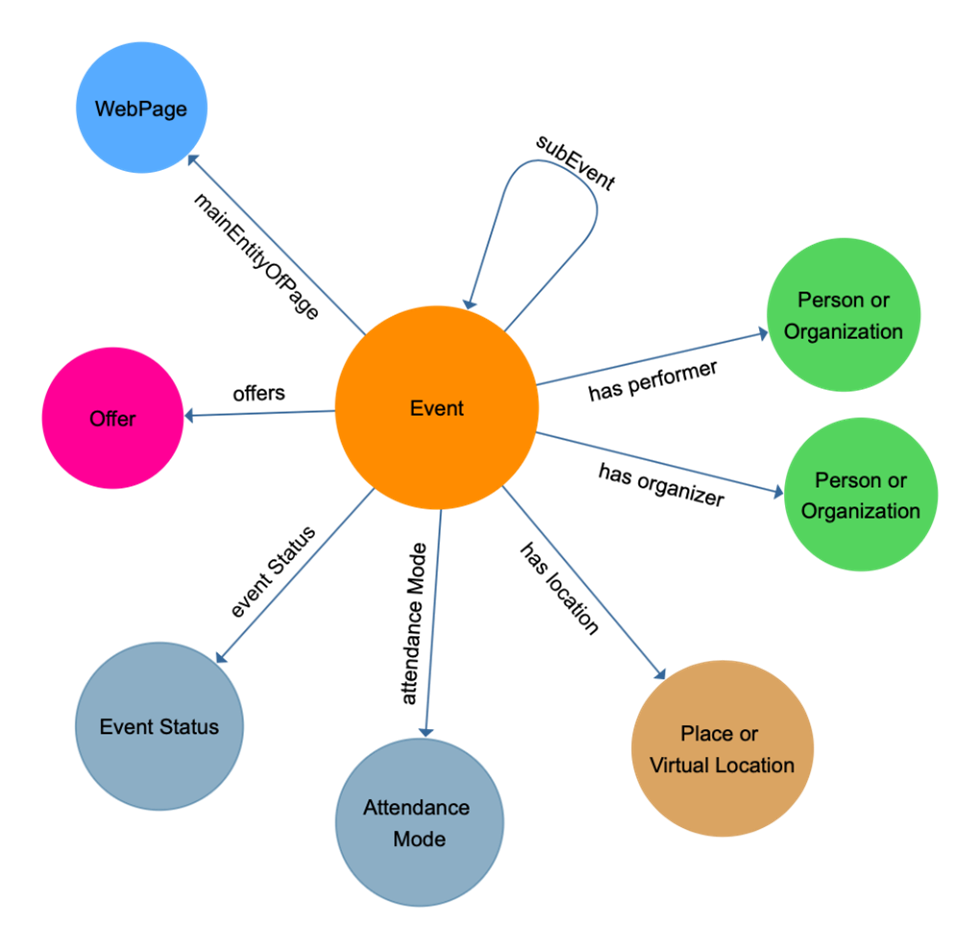 Wikimedia Commons
| | |
| --- | --- |
| Users | Any individual, search engines and other tools that use linked open data |
| Purpose | A free and open repository of media files, images, videos and audio files in the public domain under a Creative Commons licence. |
| Are you or your organization listed? | Search at commons.wikimedia.org |
| How to get in? | Anyone can register for a free account and join this crowdsourcing platform as a contributor and editor. |
All media assets uploaded to Wikimedia Commons must be in the public domain and not require royalties.  Media assets that can be added in Wikimedia Commons with the appropriate attributions that you have the right to own include:
Current professional head shots or promotional shots
Award show/red carpet photos
Behind-the-scenes images
Logo for productions
Pronunciation files for names
It is not allowable to upload rights-protected works or works others have created – unless they have granted permission – or images you have "found" on the internet.
Wikipedia
Users
Any individual, search engines and other tools that use linked open data.
Purpose
A free and open online encyclopedia operated by a not-for-profit foundation.
Are you or your organization listed?
Search at https://en.wikipedia.org
How to get in?
Anyone can register for a free account and join this crowdsourcing platform as a contributor and editor.

Beware of Wikipedia's stringent publishing policy including unbiased, non-commercial, community publishing standards – do not get black listed because you updated your own organization's entry and went beyond the facts.

Five principles users adhere to
1.       It is an encyclopedia (not a soap box, advertising vehicle, directory)

2.       Neutral point of view – verifiable, citations

3.       Free content that anyone can use, edit and distribute

4.       Editors to treat each other with respect and civility

5.       No firm rules – but clear policies and guidelines
VIAF, ISNI and Wikidata
Of note, VIAF harvests Wikidata information, and ISNI harvests VIAF data. When artists and arts organizations take the time to create complete Wikidata items for themselves, they will eventually be picked up by VIAF and ISNI, as well as Artsdata.ca. In short, Wikidata is becoming a much used authoritative open database that is trusted by these organizations and actively used to expand on their own capabilities.
Since neither VIAF or ISNI allow regular users to add or edit their data, the primary use is to look up your organization or work and add the ID, if any, to your Wikidata entry.
Users
Joint project of several national libraries and operated by the Online Computer Library Center (OCLC), users are libraries and library users
Purpose
To link international authority files to a single virtual authority where identical records are linked together
Unique ID
Contains authority records for names of persons, corporate bodies, geographical names and titles are created by LAC using Worldshare Record Manager.

A standard number is assigned to aid in disambiguation; also added in Wikipedia biographical articles and incorporated in Wikidata

Where data comes from
Institutions from around the world, including national libraries like Library and Archives Canada.
Are you listed?
Search http://viaf.org/
How to get in?
VIAF is accessible by participating libraries, not by individuals or arts organizations.

Contact: http://viaf.org/viaf/partnerpages/CAOONL.html
Users
Libraries, publishers, databases and rights management organizations
Purpose
Uniquely identifies people and organizations involved in creative activities, as well as public personas, stage names, record labels or publishing imprints
Unique ID
Each entry is assigned a unique identifier which can be used to disambiguate the same names reliably and thus speed up rights management, as well as dissemination of an linking digital and physical works
Where data comes from
ISNI is populated from many online data sources including VIAF as well as registration partners
Are you listed?
Search the database at https://isni.org/page/search-database/
How to get in?
To obtain an ISNI for a person or organization, you need to work through a Registration Partner such as ringgold (for organizations)
Access
Individuals cannot populate this data base.

It is necessary to work through a Registration Partner, or to ensure listings in other online directories that are accessible to regular users.