Why Do We Gather?
Let's acknowledge some of the challenges many conferences "in the real world" have struggled to solve:
They tend to attract a fraction of their potential audiences.
They are expensive and time consuming for participants and organizers alike especially when they require overnight travel.
Keynote speakers and other presenters are notoriously inaccessible to attendees because they do not tend to stay beyond their scheduled presentation and Q & A.
Panels have been fraught with difficulties: from not including voices from a diversity of people, to simply not delivering an engaging or cohesive experience for attendees.
Those who attend might gain an insight or two, or add new connections to their LinkedIN.
In September 2020, we undertook an online survey of staff working in BC-based museums, heritage and cultural centres. Importantly, what survey respondents value about physical conferences often isn't what they actually deliver. This spells opportunity for online conferences – and for a new breed of in-person conferences as well.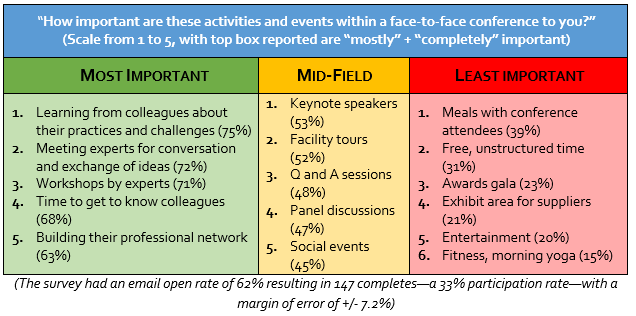 To Confer: Exchange and Discussion
Before you begin to design an online conference, consider something more basic: what precisely is the purpose of conferring together?
Literally, to confer means to "exchange opinions", "to have discussions."
It does not mean to sit politely and listen to speakers espouse their ideas.
As such, we propose that conference hosts, moderators, workshop facilitators and speakers will be well-served when they deliberately build an environment for meaningful connections and interactions that support open discussions of ideas and exchanges of opinions, in short, an effective learning environment.
Connection and Belonging
At our core, human beings are social creatures. When we gather, we realize one of our rudimentary needs: the feeling of belonging and connection. Even those of us who tend toward introversion will admit to enjoying the warm, fuzzy feelings associated with genuine human connection.
Fundamentally, regardless of your formal agenda and identified objectives, in hosting a gathering you are fulfilling this basic human need; if participants come away without having gained any sense of connection or belonging, they likely will not feel fully satisfied.
Herein lies the key to designing awesome online experiences: to remember that, first and foremost, you are setting the stage for meaningful human connection, interactions and for learning to take place. It isn't about the keynotes and the speakers as such, but rather about attendees, their learnings and what actions they take moving forward.
Establish Your Goals
With this understanding, you are ready to define the goals and objectives of your particular gathering. Online conferences and face-to-face gatherings tend to have similar broad goals including:
to share information and provide an opportunity for discussion and exchange about common issues
professional development, workshops
networking and meeting colleagues
working meetings to develop options and/or make decisions about actions moving forward.
Defining your goals and objectives specifically and the balance of various activities will help determine your content.
Here the planning process for in person and online conferences and gatherings diverges: how can your goals be most effectively achieved in the digital world, mediated through a computer screen, with all the distractions of an office or home office set up, while you design for authentic human-to-human interactions?
Weighing Complexity
There are a multitude of decisions every conference organizer makes to deliver the right online conference. This matrix provides a way of thinking about how best to deliver on your goals, for your speakers, for attendees and the best choices you can make to enhance your organization's reputation.
Consider whether a non-specialist you have on staff can successfully produce your event. As a fully self-produced event, LIVE content is streamed from hosts and speakers' homes or offices, using their webcams, and there is generally no cohesive intent to fulfill any particular level of visual or technical production.
Consider the benefits from professionally produced conference and whether the added costs are well invested. Your professional event producer or team of producers employs their online event design expertise to create a fundamentally engaging conference experience for participants. Production quality is elevated by providing speaker training; deploying professional videographers with cameras, microphones, lights, make-up kits and clothing advice to professionally shoot and produce speakers segments and other video components; creating a designed set for the HOST/MC and other enhancements.
Platform decisions come into play when considering complexity, cost and benefits. Using a webinar platform, like ZOOM Webinar or Zoom Meetings can deliver a successful event. Speakers are live online, guests are live online, content is shared via "screen share." Registration is likely handled externally (via Eventbrite or other). Some 3rd party collaboration tools can be used as add-ons (Mural, SliDo) and others can be seamlessly integrated (Otter.ai). Moving to SOCIO, a full featured conference platform, retains all the functionality of ZOOM because it is embedded for live content delivery. It also adds a number of professional add-ons, like receptions and social networking, sponsor recognition, trade show options; experiences you might expect from a physical conference.