From Search to Discoverability Online – Update Your Website with Purpose in 2021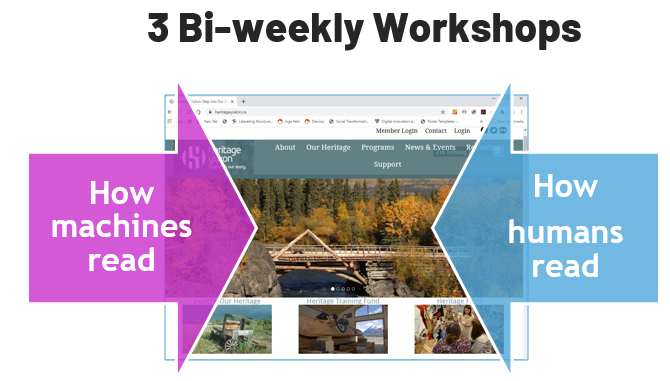 From Search to Discoverability Online – Update Your Website with Purpose in 2021
93 people viewed this event.
This series of three 90-minute  workshops will be delivered every two weeks on Thursdays, January 28. February 11 and 25 at 1:30 pm Yukon/Mountain time.
This series of workshops is geared specifically to Northern artists and art and cultural organizations that want to improve their web presence. Participants can register for any or all sessions. Registration is separate for each online workshop. Finally, we will use Zoom Meetings instead of Zoom Webinar to ensure a high degree of interactivity and a better learning experience.
Re-building Your Website 
February 18; 1:30 pm to 3 pm Yukon/MST
If your website is more than 3 years old, odds are high that it does not perform adequately on today's internet. In this workshop Inga will show you how to re-build your website in seven steps from start to finish.
This session goes beyond traditional web usability, navigation, user interface design and content. It includes the specific information on how to make sure search engines can fully understand your content. Through machine readable data   in the form of structured meta-data, you can join the new world focused on online discoverability, rather than merely search.
Preparation
For this session we ask participants to run a report on their web address using the free SEO check-up tool at https://seositecheckup.com/
Making a DIY WordPress Site
March 4, 1:30 pm to 3 pm Yukon/MST
In this step-by-step demonstration with ample room for questions, Inga will build a basic WordPress site in 90 minutes (OK, it won't have a lot of pages).
She will demonstrate:
How to approach web site planning (keyword strategy, domain search, purchase and selecting your internet service provider)
Selecting a design template
How to design your website menu and navigation
Selecting and implementing key plug-ins for using schema.org structured data on your website
Building your first page, from writing a keyword rich title tag to employing advanced SEO through schema.org structured data
From search to discoverability
March 18, 1:30 pm to 3 pm Yukon/MST
This workshop connects the dots between having a web site, traditional search engine optimization, advanced SEO through deploying structured data on your website, to taking discoverability to another level: Learn how to position your organization and local artists on the web using essential directories: from specialized directories to general ones like Wikimedia Commons and Wikidata. This workshop will explain the connection of these directories to how search engines provide answers to users and help you ensure that your site can not only be found but your content becomes truly discoverable.
Workshop Leader
Inga Petri, Strategic Moves, has been putting digital conversations in the performing arts sector on the agenda since 2011, when she lead the seminal Value of Presenting: A Study of Performing Arts Presentation in Canada (© 2013, CAPACOA). She has a long record of collaboration with our sector including co-writing Digitizing the Performing Arts: An Assessment of Issues, Opportunities and Challenges (© 2017, CAPACOA). Inga crosses the arts and technology divide easily:  since 1997, she has managed the development of web site applications, conceived online marketing campaigns, and helped organizations forge closer connections with their audiences in the digital and physical realms.
Inga lives and works in Whitehorse, Yukon.