Pacific Contact – 3 PD Sessions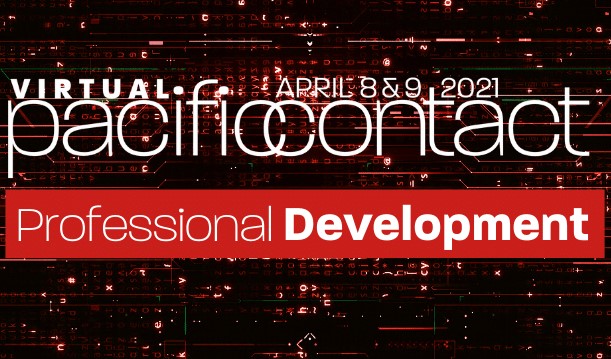 Pacific Contact – 3 PD Sessions
133 people viewed this event.
Opening Plenary – How Far We've Come. Where Are We Now?
Presentations within the performing arts sector framing how the last year has impacted and provided opportunities for change. A discussion about how 'pivoting' has resulted in greater collaboration, inspiration and surprise in projects and programs, new business models and changing relationships with audiences. Live session on Zoom with all delegates and then breakout rooms for small group discussions
Thursday, April 8, 2021
9:15 am – 11:30 am
Facilitator: Inga Petri, Strategic Moves / Making Tomorrow Better
Presenters: Bruce Halliday, Port Theatre, Erin Kennedy, Vernon and District Performing Arts Centre, Simone Orlando, Ballet Kelowna, Mike Delamont, comedian
Game Changer: Building ThePitch.ca – A Digital Marketplace for The Performing Arts
Good things often start over a good meal. And so in the summer of 2019 the idea for The Pitch was born. Then COVID-19 reinforced the urgency of figuring out what "going digital" means in theatre, dance, music and other live performing arts.
A large part of the answer lies in our ability to introduce and foster meaningful connections between artists and presenters. That is where The Pitch shines: as a digital showcasing service that brings artists and arts presenters together 24/7/365 in a new digital business relationship. A business-to-business (B2B) application, The Pitch seeks to build a broad, trusted community of artists and performance companies, agents and managers, concert buyers and presenting venues, and presenting networks.
Debbie and Inga will discuss the latest progress made as well as key features and benefits of The Pitch.  They will outline the next steps to bring this new platform to live and how you can make best use of this new platform for the performing arts. They will address any questions from participants through out the session.
This Yukon-led, national initiative is supported by Canada Council for the Arts and Government of Yukon.
Who this session is for:
Anyone working in the performing arts including creators, artists, performing arts companies in all disciplines, agents and managers, promoter, arts presenters and presenting networks.
Friday, April 9
9 am to 9:50 am
Co-Presenters: Debbie Peters and Inga Petri
Debbie Peters, Magnum Opus Management and The Pitch. Equipped with a degree in music, MOM founder Debbie Peters launched a successful teaching career before she turned her energy to becoming the first artist agent North of 60. Since 1998, Debbie has built Magnum Opus Management into an award-winning internationally recognized company focused on new audience development for musicians. With thirty years experience working in the arts as a performer, presenter, administrator and manager, Debbie has gained a solid understanding of how a touring artist can enhance a community through public performance and outreach.
Inga Petri, Strategic Moves, has been putting digital conversations in the performing arts sector on the agenda since 2011, when she lead the seminal Value of Presenting: A Study of Performing Arts Presentation in Canada (© 2013, CAPACOA). She has a long record of collaboration with our sector including co-writing Digitizing the Performing Arts: An Assessment of Issues, Opportunities and Challenges (© 2017, CAPACOA).
Re-engaging audiences: Moving from shut down to shout out
As COVID-19 vaccinations rise, our attention turns to what we need to do to re-engage our audiences and rebuild a vibrant performing arts and touring sector in cities and towns across BC.
In this workshop, Inga offers her practitioner's perspectives of the opportunities and pitfalls both in real life and in the digital world as we seek to re-engage audiences, re-activate volunteers and re-energize our communities. Inga will outline the five main trends affecting the performing arts sector as it emerges from COVID restrictions, ranging from "in real life" community building, to navigating changes in social media and developing new digital business models. And she will engage participants in a profound conversation about specific strategies, tools and tactics to rebuild better for both volunteer-run presenters and staff-led theatres.
Friday, April 9
10 am to 12 noon
Workshop leader: Inga Petri, Strategic Moves
Inga Petri, Strategic Moves, has been putting digital conversations in the performing arts sector on the agenda since 2011. She crosses the arts and technology divide easily: since 1997, she has managed the development of web site applications, conceived online marketing campaigns, and helped organizations forge closer connections with their audiences in the digital and physical realms. Inga lives and works in Whitehorse, Yukon.