Fundamentals of Building an Effective Web Presence (PADE)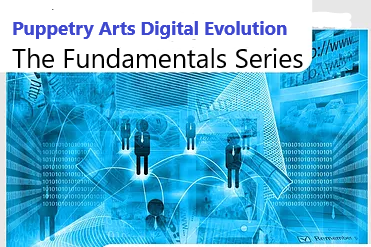 Fundamentals of Building an Effective Web Presence (PADE)
by SpringWorks / Hermione Presents
1263 people viewed this event.
PADE (Puppetry Arts Digital Evolution) is a project that aims to increase access to digital tools, resources and skills for puppeteers, multidisciplinary artists and arts organizations. Through this national initiative, we will share, learn and plan how best to implement digital knowledge and tools into individual and joint digital discoverability, marketing, and strategic future plans.
The Fundamentals Series (below – 5 workshops) – October 18 to December 4, 2021
Beyond the Fundamentals (From Search to Discoverability – 5 workshops) – January 12 to February 2, 2022
Understanding Digital Business Opportunities and Revenue Models (3 workshops) – February 16 to March 9, 2022
Five Fundamentals Workshops
All workshops start at 10 am Pacific / 1 pm Eastern time and are conducted via Zoom Meetings.
Workshops will use a dynamic mix of short presentations, hands on demonstration, participant-driven conversation and Q and As to ensure participants learn at their own speed. Pre-workshop assignments will be shared one week prior to each workshop and require between 5 and 15 minutes of work.
Click dates to register for each specific session.
Workshop 1: Building an Effective Online Presence: Assessment
Monday, October 18 (register here) and Saturday October 23 (register here) (repeat)
Duration: 1 hour
Pre-workshop homework: fill in our customized and updated digital presence assessment tool online (Click here).
La version française: Atelier P.A.D.E. 1 : Évaluer sa présence numérique (CLiquez ici)
One day before the workshop takes place, participants receive their results back with benchmarks indicating how they fit with the overall group and similar organizations across Canada. During the workshop we will review the results of the self-assessments and discuss priorities for the improvements participants should consider implementing.
Workshop 2: Creating web content that connects with your audiences
Monday, October 25 (register)
Duration: 75 minutes
Homework: Review and grade your organization's home page from the audience point of view.
During this workshop, we will discuss the principles of effective communication online – through text, images, video, design, navigation. Participants will learn to write for your audiences and connect to what they care about. And we will explain how to prepare your content so it works for machines (search engines) and humans alike.
Workshop 3: Truly engaging: How to create social media posts that connect
Duration: 75 minutes
In this session, participants will review real world examples of excellent social media content and dissecting what makes it so. We will gently offer constructive critiques of participants' current social media presence and together develop a winning formula for online engagement that drives your relationship between your organization and your audiences to a new, a better place.
Workshop 4: Mastering Google 
Duration: 75 minutes
In this session, participants will learn how to effectively position artists, events, venues and arts organization through mastering Google. This session includes a practical discussion of essential Google services like Search, MyBusiness, Maps, Google Events, Answer Boxes, and Google Home (voice assistant).
Workshop 5: Fundamentals Review Working Session 
Duration: 90 minutes
This review will be a facilitated conversation about participants challenges and successes as they work on implementing their learnings. Together, we will learn from each other by examining the challenges encountered and providing expert advice and peer support. We will also celebrate and dissect what is working well to learn from those examples.