Digital Communications for Live Arts Presenters in age of COVID-19
This week we planned to lead workshops in Atlantic Canada for performing arts presenters. Instead we convened a nation-wide webinar on March 24 to talk about the impact and reality of COVID-19 in the live performing arts and our world, and how the ground is shifting beneath our feet as life has suddenly become intensely digital – and intensely local.
This webinar is the first in a series and we focused on how arts organizations can foster deeper connections through digital relationships as well as local actions, in this time marked by self-isolation and staying at home. We also tried to establish the idea that in this time of wide-spread fear and uncertainty we have to remember ourselves: presenters and artists are used to the vagaries of the business, and navigate uncertainty and precarity all the time. And there are things we can do to create reliable, certain experience in our communities.
This session highlighted specific digital actions arts organizations can take right now to continue to be a vital part of their communities, and build strong relationships with audiences and the wider community.
Our colleagues from around the country participated by sharing ideas, expressing their concerns and supporting each other.
One major concern that echoes through all conversations is how do we make sure that free arts, free concerts don't become the norm, when it is so important that artists are able to make a living. And where are the platforms that allow the live arts artists to get paid for their work at this time.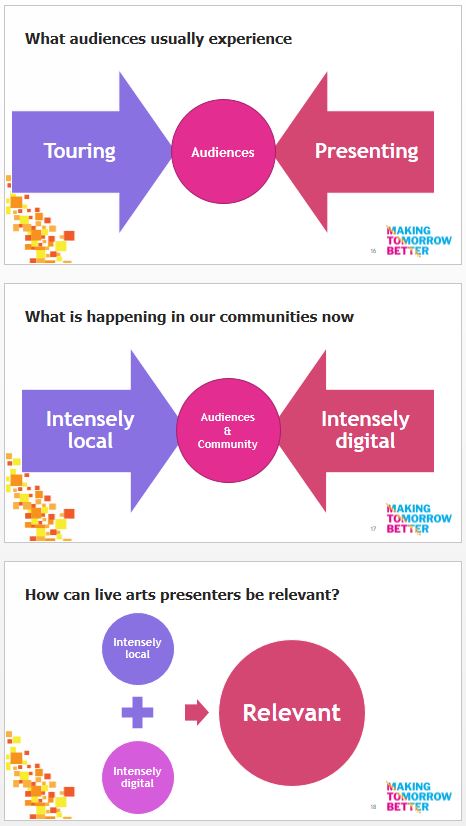 Download or view webinar files
We received 294 registrations with less than a week to get the word out. All regions of the country were represented, with an over representation of Atlantic Canada due to the postponed series of workshop. We had about 190 attendees show up, a 65% show rate, which is great given that the session was free (not to speak of the many demands and stresses on arts organizations at this moment.)